Create 1 OF A KIND Custom LED Art and Shop Engraved Products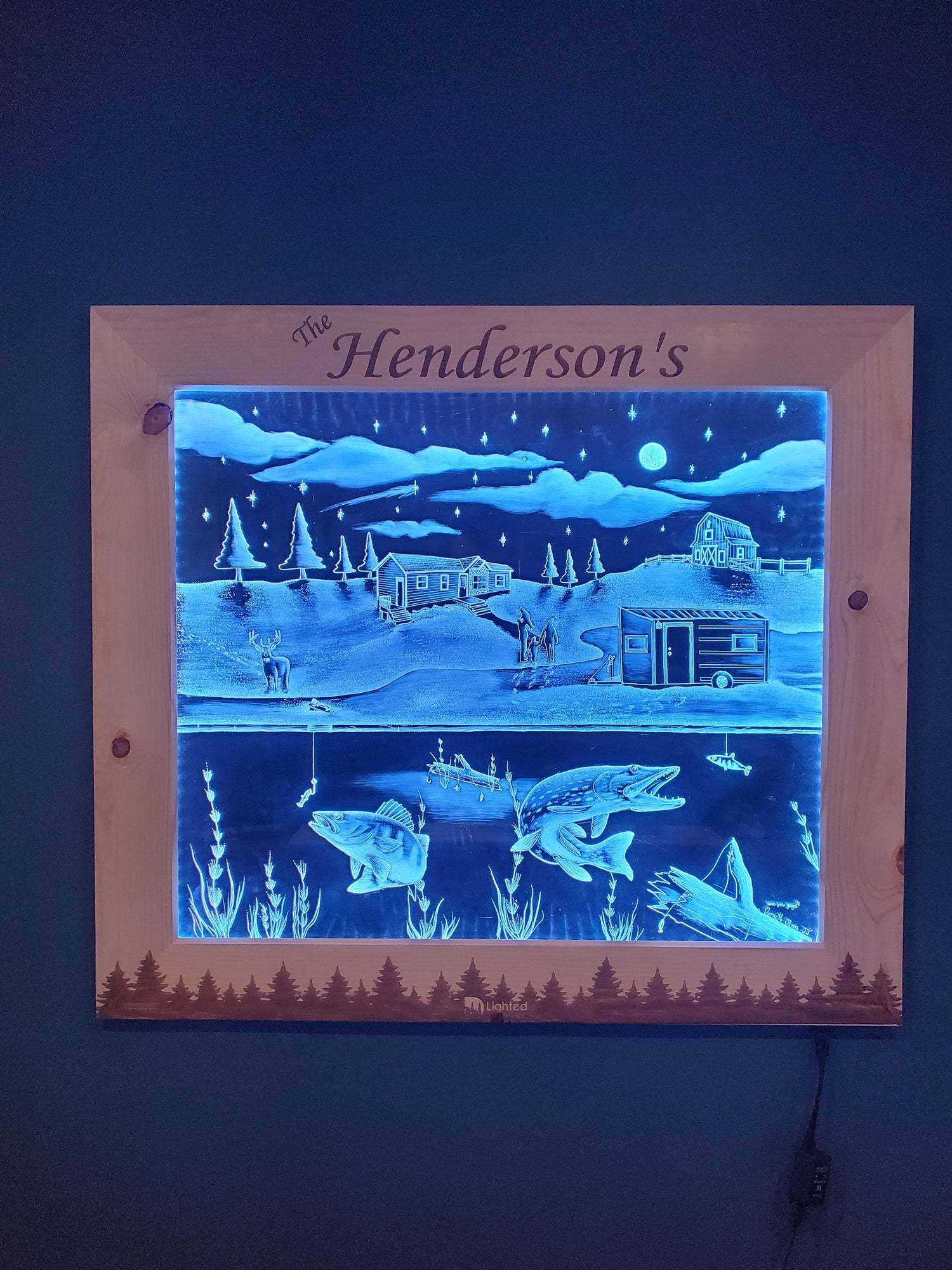 Hand-Engraved Personalized Gifts
Want a custom gift or a special keepsake? We are happy to work with you on any ideas or photos to create the perfect personalized gift. We also specialize in pet portraits, fishing or hunting designs, or sports momentos to show off your team spirit! If you can dream it, we can Dremel-engrave it. Watch your design come to life as we "tattoo" it on acrylic.
Want To See More?
VIEW ALL SERVICES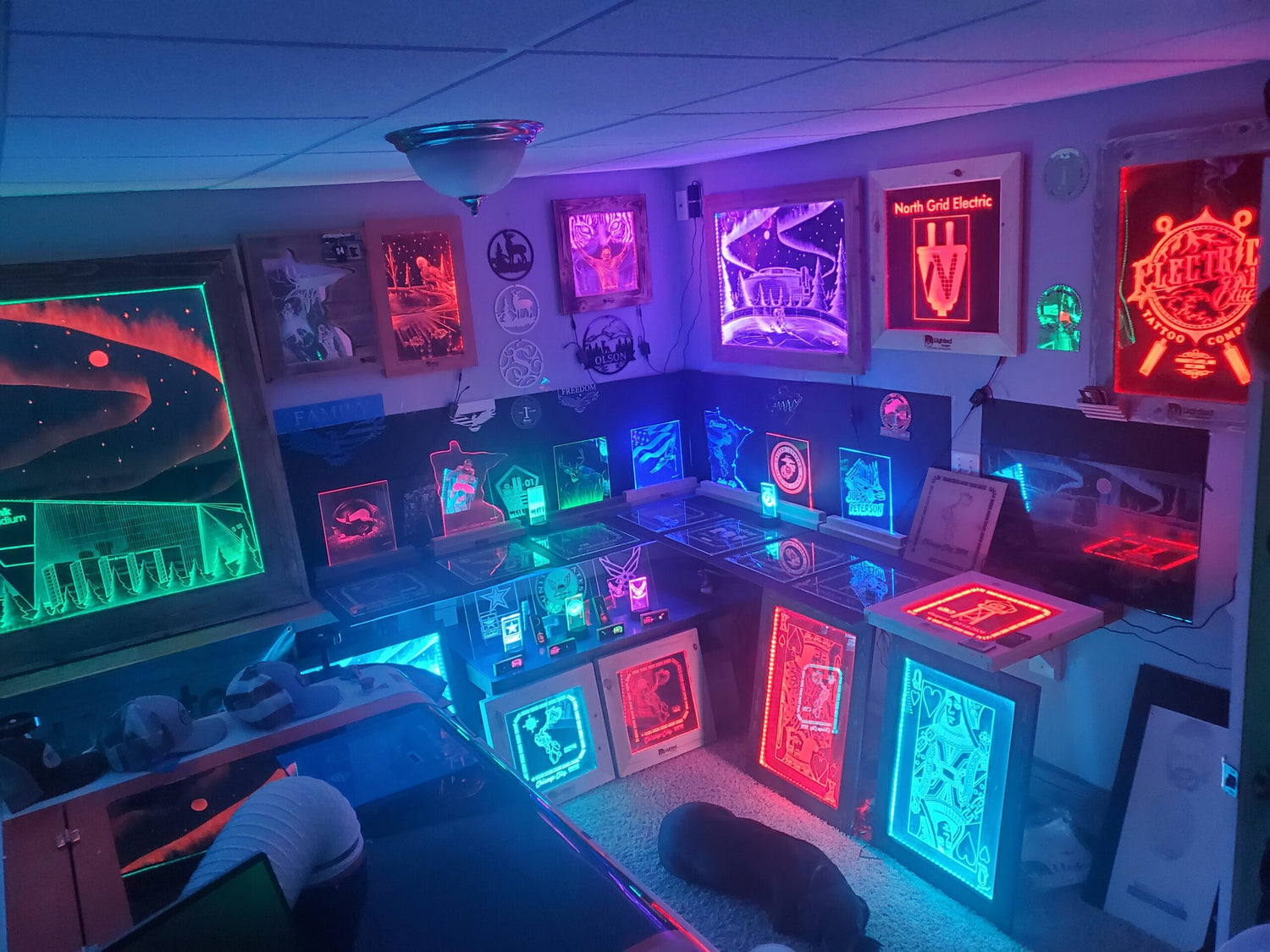 Laser-Printed Keepsakes And Promotional Items
We offer our best-selling designs on a variety of materials, including acrylic, wood, and metal.

Our laser engraving technology allows for precision and durability on each design.

Need a bulk order for a corporate event or promotional gifts? Contact us for custom quotes and laser engraved options.
SHOP ALL PRODUCTS
Watch the Handmade Process Come to Life
Keepsakes To Remember

No matter the occasion, capture the special moments with a custom engraved keepsake. Our photo engraving process ensures that your memories will last for years to come.

Perfect For Businesses + Awards

Want your logo engraved on promotional products or corporate gifts? D-Lighted Designs offers engraving services on a variety of materials, including acrylic, wood, drinkware, and many other items giving you and your customers endless options. Contact us for more information on bulk orders and custom quotes.

Re-Create Your Favorite Fishing, Hunting, Sports Memory, and Even Pet Portraits

Do you have a favorite fishing/hunting photo, memory, or multiple wildlife images you'd like to combine into one elaborate design? No problem! We can even work from just a rough idea you may have and turn that into a one-of-a- kind creation with our 100% HAND ENRAVING process. Using only a dremel and some homemade tools, we will take your photos or ideas and light up your imagination.
Hundreds of Happy Customers and Counting
Ashley Haley

"Derrick is amazing!! I never realized that he could take my dog Chinook picture and turned it almost identical into an artwork to save forever! I will only bring my ideas to him. He knows what he's doing and will turn your ideas and visions into a perfect piece for you to cherish!"

Bailey Dahlberg

"Ordered 3 of these custom cribbage boards for Christmas presents! Amazing quality and I love the custom additions (see skunks). Couldn't be happier with the finished product and the customer service! Highly recommend D-Lighted Designs!"

Casey Niesen

"10/10 recommended hands down. I had a last minute gift needed for coworkers who happened to be in the state and Derrick pulled it off beautifully. Custom tumblers with company logo and names. He was a pleasure to work with and can't wait to order more. Thank you so much!!"
Brett Smith

"I just received my led sign. it is awesome in person. so much detail on it!! Amazing work!!"

Nicole Petersen

"Very professional and great to work with! Loved the end product!"

Teresa Ruch

"Amazing work!! I was in awe of how awesome the two designs I ordered turned out!!! Thank you so much!!!!"

Pablo Saguerlo

"Love the work from Derrick. Quality and attention to detail are amazing!!"

Luke Anderson

"Derrick did a great job on a dog portrait for my aunt and uncles. They couldn't believe it was done by hand! Plus, he has some cool hats!"
CREATE MEMORIES THAT LAST A LIFETIME
Are you looking for the perfect personalized gift?

And you want to add a special touch to your home decor?

Our engraving process preserves your memories for a lifetime and adds a unique touch to any item. Just like tattoo artists, our CEO + lead artist, Derrick has developed and perfected a process where he hand engraves beautiful LED designs in acrylic. Using only a dremel tool, then hand makes every LED light stand - making these creations 100% handmade originals.
Want a laser print of one of our original designs? No problem!

How about your logo or your favorite photo on tumblers or other materials? We can offer that too, with our high-quality laser engraving and cutting process. Shop now or contact D-Lighted Designs to see what custom creation can be done for you.
GET A FREE QUOTE